Product info
How Scrubba Bags/Packs work
Product info
The Allurette™ washer is the new sister product to the Scrubba wash bag.  Featuring flatter, more rounded washboard ridges that have been designed with the most delicate of items in mind, the Allurette washer excels at gently and effectively washing most delicates and hand-wash only activewear.
The Allurette washer has been designed for home and travel to make the hand washing process easy, fast, and mess-free. Small loads can be gently and effectively washed in just minutes. 
It is perfect for fashion-lovers with lots of hand-wash only clothing, parents who need to wash baby clothes, active women, the environmentally-conscious, travellers, and those with sensitive skin. 
The Allurette washer is slightly smaller than the Scrubba wash bag and weighs just 112g (< 4 oz.). It is twice as effective as hand washing* and a lot more hygienic than washing in a dirty hotel sink.
With an Allurette washer you can:
Save time: Small loads can be washed in the Allurette washer in just a few minutes.  No more messy soaking or waiting for the washing machine, which is often too harsh on clothes anyway.

Avoid mess: Allurette is self-contained, preventing you from having to mop up any soapy spills - ideal for anyone who avoids hand washing because the clean-up takes longer than the washing process itself. The Allurette washer can also be compactly stored after use.

Be organised:  Using the Allurette washer means no more soaking clothes in the sink or in buckets. The Allurette washer can also be used as a laundry bag for storing your delicates pre-wash, keeping them separate from the rest of your laundry. 

Extend the life of your clothes: The Allurette washer is gentle on clothes, keeping them looking clean, vibrant, and fresh, many washes in.

Save money: Longer lasting clothes means less money spent on their replacement or restoration. The Allurette washer is also electricity free and uses minimal water. As an added benefit, travellers can avoid hotel laundry fees by taking this highly portable wash bag along on their adventures. 

Protect your skin: Hand washing exposes you to harsh chemicals that can, over time, dry out your skin, leaving it cracked and worn. This makes hand washing a truly problematic task, especially for those who suffer from sensitive skin or conditions such as eczema.  As clothes are rubbed from the outside of the Allurette washer, however, hands remain dry, with minimal exposure to potentially damaging liquid detergents.

Care for the environment: Because the Allurette washer requires no electricity, uses minimal water, and enables grey water to be disposed of away from the water source, you can enjoy using your Allurette anywhere, confident in the knowledge that you're respecting the environment and helping to maintain the beautiful planet that we all share.
Features
Weighs only 112g (< 4 oz.)
Compact storage for home or travel use
User instructions printed on the outside of the bag
Transparent window to monitor washing and water levels
Grip backing on the outside to prevent sliding on surfaces while washing
New easy release twist-style air valve
Doubles as a dry-bag or hand-wash only laundry bag.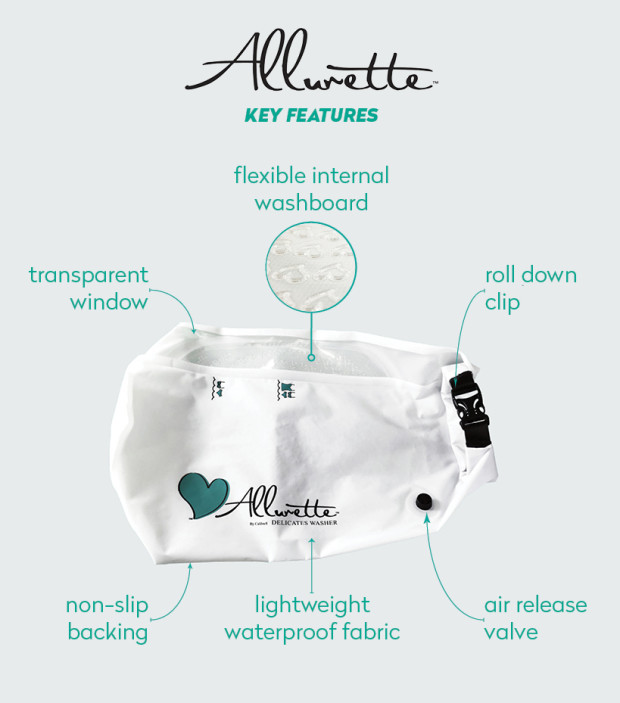 Specifications
Weight: 
112g (< 4 oz.)
Dimensions: 
49 cm x 26 cm when laid flat (19.3 x 10.2 inches).
13 cm x 6 cm x 6 cm when rolled and clipped for storage (5.1 x 2.4 x 2.4 inches)
How Scrubba Bags/Packs work
The Scrubba Wash Bag and Scrubba W Pack and Allurette washers all feature internal washboards that allow a machine quality wash in minutes.  Using them is as simple as:
Add clothes, water and cleaning liquid; close and deflate the bag; then rub from the outside for up to 3 minutes then just rinse and hang to dry.
Compared to traditional washboards, the ones in Scrubba and Allurette products are ultra thin and flexible and they are enclosed in the bag or pack.  As the rubbing is done from the outside of the bag, there is minimal mess and your hands remain drier.  
The Scrubba Bag, Pack and Allurette washer also double as dry sacs to keep gear dry between washes.
Compact and Effective
As a seasoned traveler, I've always wanted an alternative to sink/shower washing and laundromats. This is the perfect solution. I roll it up, fold in half, and buckle to keep compact. This will not take up a lot of space in a bag and will be worth carrying around. I've used it to watch my merino wool clothing and under garments and it worked as described. I did have to be mindful of water coming out from the top when shaking a certain way but this was easily avoidable. Only improvement I would recommend is add a loop to the bottom of the bag so I can hang by a carabiner to dry after use :)
Awesome!!
I haven't had a chance to use the Scrubba Wash Bag yet, but it looks like it will be perfect for my needs. It is bigger in person that I realized it would be. Super easy to store away. Looking forward to using it!
Portable Washer
I haven't used it yet, but I am taking it on an upcoming trip. I have washed things out by hand for years, and I hope this will be faster, and easier. I bought all the requisite accessories: concentrated laundry soap, clothes line, hangers etc.
So much better than sink washing
I have used the Allurette wash bag for several trips now after using the original Scrub for a few years. I like the smaller size, lighter weight (<4 oz.) and easier air release valve. We use this bag while traveling to wash all of our clothes. I typically put in some water, travel laundry soap and clothes: swish them around a bit and leave them to soak for a while. After soaking I will do some "Scrubba-ing". My preferred method of rinsing is to lie the bag open in the sink and roll up from the bottom to remove most of the wash water. Then fill the bag with rinse water, swish the clothes around and empty the bag again. Finally - wring out the clothes, lay them on a travel or camp towel, roll it up and step on it or squeeze out as much water as you can and then hang the items to dry. Upending the wash bag over a shower head or tub faucet dries out the bag by morning. I also like that this size Scrubba bag lays flat in my carry-on suitcase in the inside lid pocket. I won't go back to using a 2 gallon ziploc bag as a wash bag as this Scrubba bag makes hand washing so much less of a chore.
Perfect Travel Tool
Spent two weeks in Japan; 4 separate cities and 5 hotels. forwarded my bags to next hotel with very clean clothes. Next time will pack even less. Should have ordered the towel. Love this product.